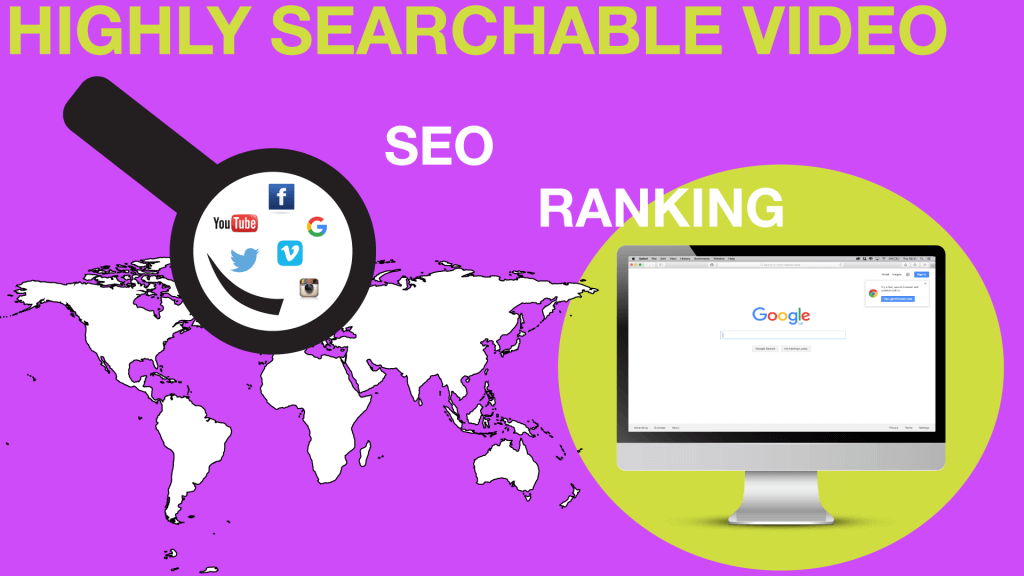 With so many videos out there on the Internet it's incredibly important that your video is found and watched by the people you made it for. The best way to make sure this happens is to use 'Video SEO'. In this blog post we explain how to make your video highly searchable online.                                                                                         
Why people use Youtube
Someone you know recommends a video
(Have you seen this …?)
Trying to find information on a specific topic
(How to Videos…)
Entertainment
(Music or Funny Vines)
Research
Before uploading your video, research is needed. It will help you figure out the method you will need and how you are able to do it.
Here are some research questions you should definitely think about before the uploading process:
What is your channel about?

Who are your Target Audience?

Where is your Target Audience based?

Why would your Target Audience be interested in your video?

How to get them to interacted and share your video?
*Tip: You can upload a video onto youtube in a matter of minutes,
but there is a 24 hour window where Youtube will give you a higher rating based on the number of Comments, Embeds, Likes, Views, and Shares your video has. Obviously don't stress yourself out trying to get these interactive impressions onto your video straightaway, you will have time after the 24 hour window. It is just a fast track into getting your video to the top of the recommend video list.
Being Interactive – (Comments, Embeds, Likes, Views & Shares)
Youtube love when your video is interactive. It shows them that your video has a following and  produces interesting or desirable content.
Email video link to customers clients or your clients to help get activity on your video

Youtube promote videos that have a community on it. Comments + replying to them + using comments to produce next video.

Send to your Social Media Following 

Upload customers video's onto your channel as it will have more authority behind or charge extra to use their own channel, as you will need to create authority plus use SEO.
Using other platforms
When promoting your video remember to share it over a variety of platforms for example Youtube, Facebook, Twitter, Google+ and Vimeo. The greater the spread of your video on the cyber world, the higher your chances of having a highly searchable video.
Most views come from outside of youtube, the more successful Youtubers use Backlinks (Links to your Video from a website), as Google looks out for them, plus websites with authority and big domain. Another option is to rent space on websites for your link. Although this could mean paying out for advertising, it is a small price in creating a backdoor to your home at Youtube.  
Effective SEO
SEO is a three letter acronym short for Search Engine Optimisation. Search engine optimisation about trying to rank higher in search engines.
Use clear video titles. Your title should have one clear point and includedkeywords within it. When creating the title for your video make sure you
take a look at Google Keyword Planner; it is a piece of software which allows you to check the amount of searches per month  on a particular word or
phase. Try to only use 3-5 Keywords, as it will help Google/Youtube rank your video and categorise it efficiently.  Watch time – youtube value watch time.
The higher the average watch time, the more interest and rating Youtube will give you.
3 Key Elements:
• Relevance: Search term and the video the user gets- find the key word that gets       reached the most (Google Keyword Planner) 
• Engagement: Attention on your video (likes, views, comments,shares,
           audience retention = the amount of time spent on your video)
•  Authority: Channel and video authority – the time that your video has been online 
*Key Tip – Video Location, helps to rank your video on Youtube. Filter through a specific city or location. (Info&setting > Advanced settings > Video location)
"Opportunities don't happen. You create them."
Chris Grosser
Save
Save
Save
Save